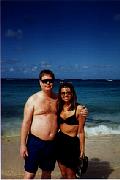 Here we are standing on the north shore of Jamaica. The Caribbean is beautiful. Dunn's River is in an area known as Ocho Rios, which means "eight rivers". I asked a local to name the eight rivers, and she said there really weren't eight rivers, it was just a name. Maybe way back there were eight rivers. You aren't encouraged to leave the resort property, so it helps that they have a nice stretch of beach.

Here is an area to lay out in the sun by the water. There was even an unofficial "topless" area. No, I didn't get to spend any time there.

Just a shot of the beach and a wave. I tried to be artistic.

I think this is Terry and Box walking along the beach. This a few days before they got married.

Terry and Box in the Caribbean. Happy, aren't they? Behind them is a buoyed off roped off swimming area. Box met a Jamaican who came snorkeling along the beach every day. Box toyed with the idea of buying their wedding rings from this guy, but eventually went into town and bought them from a jeweler.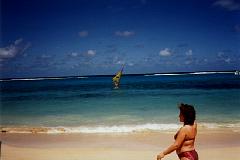 The resort let you windsurf. I wish this picture turned out better. I include it just to give an idea of what the place is like.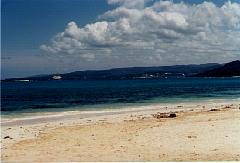 This photo shows a cruise ship off the beach at Sandals Ocho Rios.