Here is a little cupola that folks can't resist walking up into to see the view. A fake waterfall evokes the nearby Dunns River Falls. It's also popular for those newly married to have their picture taken in it. Every time a newly married couple enters the pool area everyone claps and cheers.
I love this picture - look how deep the blue of the ocean and sky is. A sun-worshippers dream. I remember clouds every day, but they stayed just off the beach and just off the beach and landward. We never seemed to be out of the direct sun.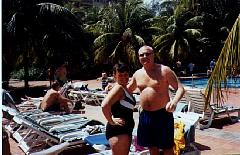 Mary and Jerry - the other married couple on our trip.
In the background is the hotel portion of the resort. Every room seemed to have a balcony. We were very happy with the resort.
Here is where the pool area meets the ocean. You can see clouds out to sea, but not overhead. Some weather effect says I ...
The view from a swim up bar out into the pool. You could walk along the pool deck and walk down to the level of the swim up bar to get a drink. You didn't have to be in the pool.
I was very concerned about coconuts dropping off and hitting people in the head ... I asked somebody about it and they said when they get riper somebody will knock them all off the trees. Once again, the clouds you see were really never directly overhead.
I guess I figured I needed another swim up bar picture. We are not big drinkers. Some folks would start drinking a lot in the morning and stay in the sun all day. Soon we wouldn't see those folks anymore ... I recommend moderation.