Here you can see the location of Mazatlan, Mexico. Mazatlan was originally settled by the Spaniards in 1531, and was a major port and village on the Pacific coast. Before the Spanish, it was settled by the native Indians, called the Totorames. They were hunters and fisherman, and adept at making clay vases and figures. A Spaniard named Nuño de Guzmán, driven by an intense jealousy of Cortés, slaughtered the innocent natives of Mazatlan. Next the conquistador Francisco de Ibarra discovered gold and sliver in the hills above Mazatlan. In 1603 pirates began dominating the waters around Mazatlan. There was hardly a better prize for the likes of Drake and Cavendish than a Spanish galleon filled with gold and silver from the mines of Copala, just outside Mazatlan. Eventually German immigration led to the growth of the port, and international trade blossomed. Even today there are many German names here in Mazatlan, and it is not uncommon to find Mazatlan residents whose second language is German.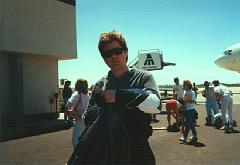 Here I am surprised by the international Paparazzi as I get off the plane. Actually, back then, my back is probably pretty sore, so I bet I am crabby after the long plane ride. I think I stood up quite a bit on the flight down. Note there is no jetway. Back then they wheeled a staircase up to the plane and you walked down the steps to the runway.
This was the girlfriend, then the wife, now the ex. We were living together with her young children/my stepchildren. We are on our first big practice vacation after several smaller ones. We are using Margaret's student loan money (hey, I did buy her a car). I remember having a very good time.
We stopped in town to see the cathedral. We did flag down taxi's for rides, or just walked around the town. I really wasn't impressed with this building.
We walked down to the Holiday Inn for fiesta night. The musicians and dancers were good - I liked the big fat guitars. The drinks on fiesta night were good but deceptively strong. This is the Corn Princess or something like that. I think she liked me, but I had brought a date.
Yes, yes we are on the beach late at night and Margaret has a deeper tan than I do.
I have made it a life-long policy never to refuse to drink booze out of a coconut. Never.
We tried to explain to the waiters that WE didn't write on the restaurant walls ...